With the general election only days away, every party has been making big commitments on NHS spending.
Among other things, the parties have offered more funding, extra GPs, more nurse training and upgraded facilities.
But critics say that in addition to more spending, politicians should focus on better long-term planning for the NHS to ensure its survival.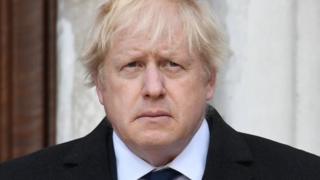 Boris Johnson has said the "grim reality" is that "some people can't be rehabilitated" in prison.
The PM called for longer sentences and an end to automatic release after convicted terrorist Usman Khan killed two people on London Bridge on Friday.
The father of Jack Merritt, one of the victims, says he would not wish his son's death "to be used as the pretext for more draconian sentences".
Labour have accused Mr Johnson of using the attack for political ends.
And in an article for the Guardian, Mr Merritt's father Dave said his son "would be livid his death has been used to further an agenda of hate".
"What Jack would want from this is for all of us to walk through the door he has booted down, in his black Doc Martens," he wrote.
"That door opens up a world where we do not lock up and throw away the key. Where we do not give indeterminate sentences, or convict people on joint enterprise.
"Where we do not slash prison budgets, and where we focus on rehabilitation not revenge."
Mr Johnson denied claims he was politicising the attack, saying he had campaigned against early release for some time, having previously raised the issue during his 2012 campaign to be mayor of London.
"I feel, as everybody does, a huge amount of sympathy for the loss of Jack Merritt's family, and indeed for all the relatives of Jack and Saskia, who perished at London Bridge," he said.
"But be in no doubt, I've campaigned against early release and against short sentences for many years."
'Tough to crack'
He said he has a bill "ready to go" in the Queen's Speech, if his party were elected to power on 12 December, to stop automatic early release for serious and violent offenders.
"We have too many people who are released automatically onto our streets and we need to address that," he said.
The Conservative Party leader said Khan should not have qualified for automatic early release from prison after he was jailed in 2012 over a plot to bomb the London Stock Exchange.
Asked about the fact that Khan was not deradicalised in prison, under the watch of the Conservatives, Mr Johnson replied: "When we look at the problems that we come across in trying to deradicalise people, we have to face the grim reality that in some case it really is very difficult and I think this was one of those cases."
He said Khan's case showed "some people can't be rehabilitated".
"Unquestionably there are some cases to tough to crack and alas he was one of them," Mr Johnson said.
The prime minister said on Sunday that 74 people jailed for terror offences and released early will have their licence conditions reviewed.
Mr Merritt, 25, and Saskia Jones, 23, were honoured at vigils in London and Cambridge on Monday.
'System under stress'
Khan was given a special jail term known as Imprisonment for Public Protection (IPP), which meant he would serve at least eight years and could not be released unless he had convinced the Parole Board he was no longer a threat.
But in 2013, the Court of Appeal replaced the sentence with a 16-year-fixed term of which Khan should serve half in prison.
He was released on licence in December 2018 – subject to an "extensive list of licence conditions", police said.
Khan was shot dead by police on London Bridge on Friday.
No-one sentenced to a terrorism offence is now subject to automatic early release under current laws.
Former justice minister Philip Lee, who defected from the Conservatives to the Liberal Democrats over Brexit, criticised his former party's record on prisons,
He said the London Bridge attack highlighted "a system that was under stress" and one in need of "proper funding and proper reform".
'Jihadi virus'
He added that the criminal justice system "had to bear the brunt of quite significant cuts to its funding" and during his time as justice minister he "never really felt it was a priority in government to fund justice, because it doesn't tend to be a vote winner".
"It only becomes a vote loser when things start to go wrong, or when people think mistake have been made and that's what happened in this particular case," he said.
"The prime minister is notorious for being loose with the truth. And now he's waded in to something incredibly complex, and starts talking about we need to 'bang them up' for longer.
"That might play well in some simplistic way, but you need to address capacity of the prison places. You do that by the police, prisons and probation all working together.
In an ITV election debate on Sunday, Labour's shadow justice secretary Richard Burgon said he was "very uncomfortable with the way the discussion from the Conservatives moves straight from a tragedy to reheating pre-packaged political lines smearing the Labour Party".
He added: "I think our democracy, regardless of our parties, should be better than that".
But Brexit Party leader Nigel Farage said: "I think these people should never ever be let out prison unless we are absolutely convinced they do not have the jihadi virus. But political correctness stops us from doing that."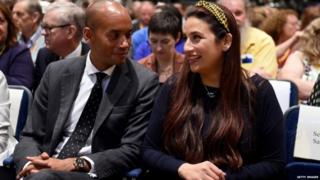 Former Labour MP Luciana Berger is to fight the seat of Finchley and Golders Green in north London for the Liberal Democrats at the next election.
She has chosen not to contest her current seat, Liverpool Wavertree, which she has represented since 2010.
Ms Berger quit Labour in February, blaming a culture of anti-Semitism in the party and personal attacks on her.
The Lib Dems came third in the London seat in 2017, but hope to do better due to their Brexit opposition.
The Jewish MP was a founding member of the Change UK party which launched in the run-up to the European Parliament elections in May.
However, she quit the party after its poor performance and joined the Lib Dems earlier this month.
In a letter addressed to her Liverpool Wavertree constituents posted on Twitter, Ms Berger says she made the decision with her husband, with whom she has two children.
"Balancing personal and and professional responsibilities is complicated for everyone," she writes.
"As a family, we have had to make a decision about how best to navigate work and raising our young children."
She adds they had decided to move to London after the next general election "after a great deal of thought".
In a statement, Liverpool Wavertree Lib Dems said they regretted her decision to contest a different seat but "understood the reasons for doing so".
Richard Kemp, who leads the Liberal Democrat group on Liverpool Council, said Ms Berger had been subject to "appalling anti-Semitism and gender bullying" during her time representing Labour in the constituency.
She has spoken of receiving thousands of anti-Semitic taunts online, as well as death threats.
An internet troll who sent anti-Semitic messages to Ms Berger and other victims was jailed for more than two years in 2017.
Liverpool Wavertree has been regarded as a safe Labour seat since boundary changes in the 1990s. The Lib Dems came third with less than three 3,000 votes in 2017.
In contrast, Finchley and Golders Green is a marginal seat which has fluctuated between the Conservatives and Labour since it was created in 1997.
According to the UK Polling Report, the constituency has the largest Jewish population of any seat in the UK, with more than 20% of residents describing themselves as Jewish in the 2011 census. It is also a heavily pro-Remain constituency.
The Lib Dems had selected Clareine Enderby to contest the seat.
Under different boundaries, the constituency of Finchley was represented by former Conservative leader Margaret Thatcher for more than 30 years between 1959 and 1992.
Conservative Mike Freer retained the new seat with a 1,657 majority in 2017, an election in which the Liberal Democrats received only 3,463 votes.
Ms Berger's move follows that of her fellow Lib Dem Chuka Umunna, who has decided to fight the seat of the Cities of London and Westminster, rather than Streatham in south London, whose MP he has been since 2010.